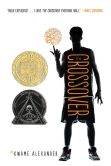 Josh and Jordan are twins, raised on basketball by their father, a former star player in the European League. For them success has been measured on the court. Josh is referred to as a phenom with huge potential.
The two brothers have always been headed in the same direction, but when Jordan becomes more interested in a pretty girl than in the action on the court, Josh is confused. The confusion turns to anger and he finds himself sitting the bench just when his team needs him the most.
Worried about their own personal issues, the shocking news of their father's health crisis hits them hard. Their father had been too stubborn to heed his wife's warnings to see a doctor, and now Josh and Jordan may lose their mentor. Each young man faces the crisis in his own way and each must determine how best to honor the father they love and respect.
Author Kwame Alexander uses verse to create this hard-hitting, fast paced story. The basketball action, the rivalry between brothers, and the discovery of what holds a family together all combine to provide an interesting read for a wide ranging YA audience.