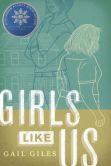 "Retard," " Fool," and "Speddie" are just a few of the names directed at Biddy and Quincy. Both girls are Special Education students graduating from high school. What will happen to them out in the real world? One creative social worker has an idea, but will it work?
Biddy has grown up with her grandmother never knowing her mother. An accident at birth deprived her of oxygen and she has been labeled with "moderate retardation." Unable to read or write, she still has a great memory for details and tasks if someone is patient enough to work with her. Graduation means that her grandmother will no longer receive Biddy's monthly support check so she announces that Biddy will have to leave the only home she has ever known.
Quincy lived with her crack addicted mother and whatever boyfriend she was currently seeing. When one of those boyfriends disciplined Quincy with a brick doorstop, she was left with a disfigured face and brain damage. Quincy is angry with the world and learning that she will be leaving her current foster home to live with Biddy another "speddie" from her graduating class doesn't exactly make her day.
Ms. Delamino has arranged for an interesting experiment. The two girls will shared a small apartment on the property of an elderly woman in exchange for cleaning and caring for the woman. Ms. D. also found a job for Quincy at a local grocery store. Her hopes are that the two girls have skills that will complement one another and enable them to live successfully in the normal adult world.
Author Gail Giles beautifully illustrates the true meaning of friendship and collaboration. GIRLS LIKE US is a touching story of three women who find a way to share their lives and benefit in amazing ways.