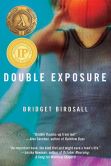 "Aren't we all queer? Different? Odd? Peculiar? Strange? Freaky? Weird? Losers in our own way?"
It may have taken the first fifteen years of her life, but Alyx Atlas is coming to terms with who, or some may say, what she is.
Born intersexed, Alyx has both male and female genitalia. This rare condition was explained to her parents by the doctor who suggested that surgery could be performed immediately to preserve her female organs and eliminate the male organs. It was the decision made by most parents of newborns with this condition. Alyx's forward thinking parents decided to leave things just as they were and give Alyx time to decide who he/she wanted to be.
Since Alyx displayed true athletic talent, most considered her a boy, but from an early age she viewed herself as female. According to doctors, she could begin taking female hormones so she could develop breasts and begin menstruating, but the advice was that she wait until she was eighteen to consider any final surgery.
All the advice was well and good, but since Alyx's feminine tracts dominated, she became the target for bullies, and after a number of vicious attacks, she began thinking death would be easier than living this double life.
After her father's death from cancer, Alyx and her mother relocated from California to her mother's hometown in Milwaukee. Alyx took her mother's maiden name hoping to blend in at her new school. She joined the girls' basketball team and began to live a life she thought would be normal.
As most readers will soon guess, Alyx's past catches up with her and life once again becomes complicated. Will she be able to deal with the challenges ahead? Will she be able to come to terms with who she is despite the sidelong looks and discrimination of others?
Author Bridget Birdsall tackles a tough subject with sensitivity and grace. Readers will fall in love with Alyx right from the start and cheer her on as she faces more than any teen should have to face. Her unique situation will force readers to consider exactly what makes a person who they are both inside and out. DOUBLE EXPOSURE is a must-read and should be on every high school library and classroom shelf.