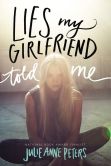 News of Swanee's death nearly derails Alix. How can a healthy, running addicted young woman just collapse and die?
Alix's parents never truly accepted Swanee as Alix's girlfriend. The two spent more time together at Swanee's house or in her little pink Smartcar. Swanee was a rebel who tried to bring out Alix's more daring side, and that isn't always welcome when your parents are on the conservative side.
When Alix finally gets the nerve to visit Swanee's family, she is greeted by their strange form of grief. Alix asks to enter Swanee's bedroom in hopes of connecting one last time with the love they shared. She runs across Swanee's phone and discovers a string of unanswered texts for a mysterious "LT." The mystery caller doesn't seem to have received the message of Swanee's death, and the message suggests a romantic relationship that Alix can't seem to understand.
Alix becomes obsessed with finding this LT intending to break the news of their mutual friend's death. As her search unfolds, it becomes obvious that Swanee was keeping secrets that involved both Alix and the texting stranger. As the secrets are uncovered, both girls learn that Swanee was not the girlfriend either of them thought she was.
Author Julie Anne Peters takes her readers on an adventure that twists and turns through the complicated lives of three young women. Readers will come to admire the resilience of the two betrayed teens as they come to terms with the truth about their mutual lover's lies. LIES MY GIRLFRIEND TOLD ME proves that life is not easy, but the challenges may be worth the struggle.