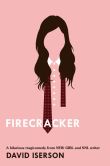 Astrid Krieger's life is about to change. She has been kicked out of multiple private schools so her parents have decided she will be attending public school for the first time in her life.
Raised in a wealthy family with the best of everything, Astrid is spoiled and insists on breaking every rule she can. When her parents decide her punishment is to attend public school, she responds by telling them she is moving out. Since she has no independent source of income, and her parents remind her that her older sister is already living in the guest house, Astrid moves into a prototype of a rocket ship in the backyard.
Living in a rocket ship will definitely be a topic for small talk at her new school, but will Astrid fit in and be able to adjust to life with "regular" people?
FIRECRACKER by David Iserson has been compared to John Green's LOOKING FOR ALASKA. Given the fact that Iserson has written for shows like NBC's
Up All Night
and
Saturday Night Live
, readers are in for a fun ride as they follow Astrid in her adventures.