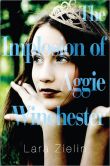 Much to her mother's shame and disgust, Aggie Winchester has followed her friend Sylvia to the dark side. Aggie's Goth persona may be a form of rebellion against her principal mother, but it is also a way for her to step outside of herself when things get beyond her control.
Things have been pretty bumpy with boy friend Neil, and when he actually breaks up with Aggie, she can't seem to get over it. If she is honest with herself, she should recognize that he was only interested in her for one thing, but she felt so complete when she was in his arms. Now when she is hoping to confide in her best friend Sylvia, Sylvia has news of her own. She is pregnant.
Maybe it's the pregnancy, or maybe it's the new girl, Beth, who has Sylvia acting so weird. She stops calling Aggie and barely acknowledges her at school. The real shock comes when Sylvia announces that she is running for junior prom queen. When she tells Aggie it is because the father of her baby is up for prom king, Aggie tries to convince Sylvia that isn't the right way to get his attention and acceptance.
Just when Aggie's relationships are all crashing, her mother announces she has cancer. Aggie feels left in the dark by her parents and begins making even more questionable choices. When the prom queen vote turns into a controversy, possibly involving Aggie's mother, she isn't sure where to turn. It seems no matter what decisions Aggie makes, things get more complicated.
Author Lara Zielin deftly portrays the angry teenager. She has created a sixteen year old struggling with self-expression and standing up for what she believes is right. Readers will surely relate to the difficulties of balancing family loyalties with the pull of peer pressure. I found Aggie to be both a refreshing and frustrating example of the teen spirit.