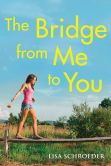 Lisa Schroeder's new novel combines prose and verse in a touching story about friendship, love, and believing in yourself.
Lauren has moved in with her uncle and aunt and their three young children. Lauren is still reeling from the fact that when things got tough with her mother, the woman who gave birth to her sent her away. Now she is starting her senior year at a new school with no friends and not knowing if she will ever see her little brother again.
Colby's mother died years ago so he has been used to living with his dad. Recently, his grandparents moved in, partly to make things easier for Grandpa who has MS, but also because Gram wants to lend a hand in taking care of Colby and his dad. Right now football is consuming Colby's free time. The team is hoping to make the state playoffs this year, and Colby's talent has attracted a number of college scouts. His dad is excited about helping his son select the best scholarship offer, but Colby has other ideas. Unfortunately, breaking the news about not wanting to play football in college is not going to be the news his dad wants to hear.
When Colby stops in at the town's bookstore to pick up a book he ordered, Lauren's uncle, the store's owner, asks Colby a favor. Since Lauren is new in town, he is hoping Colby will introduce her around and help her make friends.
A quick stop at the nearby convenience store results in a chance meeting between Colby and Lauren. He is immediately captivated by the pretty girl and her quick humor.
As the story unfolds, Lauren and Colby both face problems that threaten to derail their growing friendship. Readers will cheer them on as they face these challenges and attempt to beat the odds to maintain a successful relationship.
Author Lisa Schroeder's fans will be pleased by this latest offering, and it is a great way to introduce her to potential new fans. I can't wait to get it in the hands of the teen readers I know.