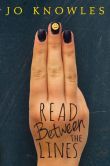 I'm so honored to be part of the READ BETWEEN THE LINES ARC Tour! Thanks, Jo Knowles, for trusting me with your fabulous book.
Knowles' previous books JUMPING OFF SWINGS and LIVING WITH JACKIE CHAN have been very popular in my classroom so I'm thrilled to be able to let my students know she will have a new book coming out in March of 2015.
READ BETWEEN THE LINES is filled with an intriguing group of characters. Their lives are artfully woven together, and their stories will draw readers into and through the book. Each chapter allows the reader step into the life of a featured character. The sense that their experiences and lives will be connected is present from the start. The simple, yet crude gesture of an extended middle finger becomes a symbol that helps connect these small town personalities.
As the stories evolve, readers meet the cheerleader, the popular athlete, the closeted gay teen, the misunderstood teacher, the father and son, just to name a few. Judgments are made, lines are crossed, hearts are broken, and tempers flair. One thing that becomes crystal clear is that no one can know what lives in the mind of one's fellow man. No matter how hard we try or how much we imagine, the hidden thoughts of others remain a private, hidden world. Knowles deftly intertwines the lives of her characters and makes us care about them, making READ BETWEEN THE LINES a fascinating read.
Over the next several months this book will be in the hands of very capable reviewers. Watch for their wise words on blogs, Facebook, Goodreads, Twitter, and more; then look for your own copy of READ BETWEEN THE LINES at your favorite bookstore in March 2015.