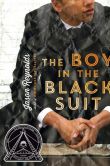 I was soooo excited to win an ARC of THE BOY IN THE BLACK SUIT when I attended the ConTroll YA author conference in Adrian, Michigan. I didn't even know Jason Reynolds had a new book due for release in January until I saw it lying there on the giveaway table. My students and I really enjoyed WHEN I WAS THE GREATEST so when my ticket was drawn, I knew just what I wanted.
Matt is starting his senior year a bit late. The delay is because his mother just died. He and his father are trying to get used to her absence, but it won't be easy. She was the glue that held the family together. Matt misses her steady presence and the fun times they had when she was teaching him to cook. His father, a recovering alcoholic, needs her inspiration to stay sober.
When Matt is offered a job at a neighbor's funeral home, he tentatively accepts the offer not sure of what to expect. Will he have to touch and dead bodies? Exactly what does working in a funeral home entail?
Soon Matt is wearing a black suit while he sets up chairs, organizes after-funeral dinners, and even acts as a pallbearer on occasion. Oddly enough, what he enjoys the most is sitting in on the funerals and watching the mourners. Seeing them grieve helps him deal with his own sadness.
An accident that critically injures his father and an attractive girl named Love add additional complications for Matt to handle. Readers will be drawn to Matt's likeable nature immediately and marvel at his ability to carry on as he deals with his grief. His determination to move on but not forget the woman who influenced him is admirable.
If you haven't discovered author Jason Reynolds yet, be sure to check out THE BOY IN THE BLACK SUIT as well as his earlier book, WHEN I WAS THE GREATEST.