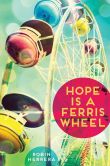 Even though the place is called Treasure Trailers, it doesn't hide the fact that Star Mackie lives in a trailer park. The kids at school poke fun at the fact that the park is located next to the dump, that the residents are drug addicts, that a number of trailers still have their Christmas decorations up, and that Star's blue-tinted black hair is cut in a mullet. Star is sure her life would improve if she could find a friend and some day meet her father.
Since moving from Oregon to California, Star's mother has been busy with her new job and Star's sister Winter is focused on her own problems. Star decides to see if her teacher will give her permission to start an after school club. Maybe she could start a Trailer Park club and convince kids that living in a trailer park is actually cool.
When that idea falls flat, Star reinvents her club. Inspired by a poem quoted by her teacher, she decides to create an Emily Dickenson Poetry Club. She is overjoyed when a girl named Genny agrees to join the club. But when the girl's brother, one of the bullies who constantly taunts Star, comes along with the membership deal, Star isn't sure things headed in the right direction.
As she deals with frustrations at school, Star also worries about her sister's recent moody behavior. When Winter suggests the two of them sneak away to return to Oregon to visit their deadbeat father, Star is more than willing to join her. Memories of her absent father revolve around a trip to the carnival, a ferris wheel ride, and a missed opportunity to meet the man she has never known. Going with Winter would answer so many questions and renew her hope that life has more to offer than a trailer park and bullies.
Author Robin Herrera's debut novel stars a main character who will capture the hearts of readers in the very first chapter. Star's innocence and fresh perspective even when life puts up one roadblock after another make for an inspiring reading experience. HOPE IS A FERRIS WHEEL is a sure winner for any middle grade collection.