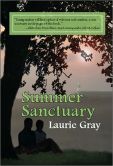 According to Matthew, this summer is going to suck. With his friend Kyle away visiting his grandparents' farm, there won't be anyone to hangout with except his annoying brothers and his pregnant mother. And what's up with that? Aren't four sons enough for one family?
Being homeschooled by his mother and minister father, Matthew decides to throw himself into a science research project so he can spend the long summer at the local library. One of his first days at the library he meets a strange girl. She confides that she is currently living in a nearby park. Her name is Dinah, and she tells Matthew she has to live on her own for twenty more days until her mother comes back. He agrees to keep her secret, but is puzzled about just exactly where her mother could be.
Even though a year apart in age, the two hit it off immediately and begin spending time in the library or perched in an old nearby tree. Matthew shares his lunch and Dinah shares her poetry. A few days after the meet, Matthew come up with a plan to leave the back door of his father's church unlocked so Dinah can sneak in every evening and spend the night.
SUMMER SANCTUARY by Laurie Gray is the heartwarming story of a young boy who discovers the true meaning of friendship. The messages in his father's sermons have always been just words, but helping Dinah survive and becoming her friend teaches Matthew the real importance of caring for others.