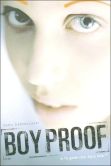 Inspire by John Green's
18 Books You Probably Haven't Read
, I found my copy of BOY PROOF by Cecil Castellucci. It has been on my classroom shelf for some time, but for some reason I've never read it. Thanks for the suggestion, John.
With a mother who is an actress and a father who is a respected makeup and special effects artist, one would think that Victoria's life would include one amazing event after another. The reality is Victoria, who prefers to be called Egg, goes out of her way to be a loner. Believing herself less attractive than her beautiful mother and not as interesting as her talented father, she works hard to avoid friendships and as her mother calls it, makes herself "boy proof."
Her fascination with the sci-fi movie
Terminal Earth
inspires most of Egg's actions including the name, her appearance, and her oddly-designed fashion choices. Her goal is to be valedictorian and have the choice of the best colleges, but trigonometry is killing her butt. Although, she has acquaintances in life, Egg avoids close friendships as a rule. That is the case until she meets Max. The two have a lot in common and sharing their thoughts about those common interests has Egg becoming strangely attracted to Max. The resulting confusion has her rethinking most of her life choices.
Author Cecil Castellucci takes readers on a wonderful journey through Egg's transformation. Anyone feeling lonely or left out will be inspired by Egg's courage as she confronts her preconceived notions about how she fits into the world around her.