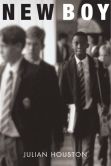 NEW BOY, set in the 1950's, is the story of a Southern high school student whose chance to attend a boarding school in Connecticut is an eye-opening experience. Rob Garrett understands that the opportunity to enroll as the only black student at Draper has the potential to open doors for him that continuing to attend his local high school in Virginia will not. He knows he should be grateful, but he is also incredibly nervous.
The administration at Draper makes Rob feel welcome, and classes are interesting and challenging. Living in a dorm with all white students is a bit unsettling. Rob treads lightly during the early days at the new school especially when he witnesses the blatant discrimination aimed at a fellow student unlucky enough to be an Italian with chronic acne. Rob befriends the outcast, but as the challenge of his studies and maintaining a spot on the honor roll consumes his time, he finds it is difficult to be the attentive friend he knows he should be.
As Rob keeps in touch with friends in Virginia and visits home during holidays, he learns of the increasing fight to end segregation in the South. Becoming used to the more free way of life for blacks in the North, he vows to help his Southern friends fight despite the risks and his parents' fears for his safety.
Torn between life in two very different worlds, Rob's story gives a personal touch to the Civil Rights struggle of the 1950's. NEW BOY by Julian Houston is an excellent novel for readers interests in seeing a different view of the fight to end segregation in America.