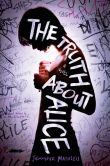 Rumor has it that Alice slept with two guys at the same party on the same night. Then when one of those guys, the most popular guy in school, ends up dieing in a car accident, Alice gets the blame. She wasn't behind the wheel or even in the car, but another rumor begins that she was sexting Brandon at the time of the crash.
Everyone has something to say about what happened. THE TRUTH ABOUT ALICE highlights the events through the eyes of four of Alice's fellow classmates. There is Josh best friend of Brandon and accident survivor. Kelsie is Alice's former best friend. Elaine hosted the infamous party where the rumors started, and Kurt maybe be the least popular kid at school but he's probably the most loyal to Alice.
Although the focus is on Alice and the meltdown of her reputation, each narrator gradually reveals his or her own personal issues. From the outside it might look like Alice has the most to lose, but looks can be deceiving.
THE TRUTH ABOUT ALICE by Jennifer Mathieu follows the students in a small community as the rumors unfold. The callous attitudes and cruel behavior are reminiscent of Jay Asher's THIRTEEN REASONS WHY and are sure to have readers talking long after they finish the last page.