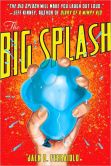 Franklin Middle School is not your average school. Franklin has the usual classes, teachers, and homework, but it also has a dark side. Matt Stevens is out to make his school a better place.
Although he is only in the seventh grade, Matt has his own private eye business. He has recently been hired by Vincent Biggio who deals in forged hall passes and black market candy. If you cross Vincent, you become part of the Outs, and that's something no one wants. Matt has been hired to find out who took out one of Vincent's people, Nikki Fingers.
Matt is sure he knows who the guilty party is, but it only takes a little investigation to determine that the suspect list is much longer than he anticipated. It is not going to be easy to find out who he can trust and who is out to make Matt part of the Outs along with Nikki.
THE BIG SPLASH by Jack D. Ferraiolo is laugh out loud funny and full of fast-paced action. It is perfect for middle grade readers, especially boys.