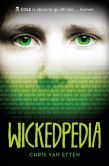 WICKEDPEDIA by Chris Van Etten is the perfect murder mystery for summer beach reading. Complete with high school gossip, a touch of humor, and some gruesome killing, it will grab readers and keep them in a choke hold until the end.
Cole is battling Winnie for valedictorian, and to make matters worse, Winnie is his ex-girlfriend. He hasn't truly gotten over their breakup, and he certainly isn't a fan of her new boyfriend and soccer star, Josh.
When Cole's friend Gavin suggests a way to embarrass and maybe even sideline Josh, Cole is all in. Using Wikipedia is a shortcut their teachers frown upon, and when they discover Josh uses it regularly, they decide to do a bit of editing to "help" Josh with his research for an upcoming speech.
Everything works just as they plan and Josh suffers publicly. But, when Cole and Gavin get a bit more creative on Wikipedia, events begin to spiral out of control. What started out as a joke is now ending in death and disfigurement caused by someone who is obviously watching their every move.
Author Chris Van Etten provides plenty of intense action and intrigue in WICKEDPEDIA. Get your hands on a copy today.