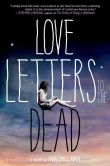 When Laurel's English teacher requires everyone to write a letter to a dead person, Laurel chooses Kurt Cobain. He was her choice because her sister May was one of his biggest fans. Both Kurt and May died young so Laurel is hoping to find some answers or at least comfort as she writes the letter.
What is interesting is that Laurel doesn't stop with her assigned letter to Kurt. She continues writing her thoughts and feelings and addressing them to other dead people. Judy Garland, Amelia Earhart, Janis Joplin, River Phoenix, and even Allen Lane, the voice of the famous talking horse Mr. Ed, are just a few of the dead people to whom Laurel pours out her feelings.
Laurel splits her time between living with her father and her aunt. Her parents divorced shortly before her sister's death and her mother left soon after. Laurel hoped that changing schools would soften the impact of missing her sister, but making friends proves to be challenging until she meets Natalie and Hannah and then the mysterious Sky. Not the best influences, they may be leading her astray, but Laurel welcomes the distractions they offer since she doesn't seem able to face the truth about the painful secret she carries with her. Sky has his own secrets and attempts to get Laurel to open up to him, but she isn't sure she is ready to trust anyone just yet.
LOVE LETTERS TO THE DEAD is the debut novel of author Ava Dellaira. The use of letters provides a unique approach in the telling of Laurel's story. Dellaira captures the essence of both past and present through Laurel's heartfelt words to people no longer of the earth.