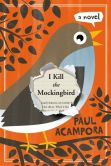 Three friends attempt to honor their deceased teacher by encouraging people to read the famous classic TO KILL A MOCKINGBIRD. Unhappy that their new English teacher is assigning a huge list for summer reading, Lucy, Elena, and Michael can think only about Fat Bob and his promise to make their only summer reading requirement TO KILL A MOCKINGBIRD. The book is already a favorite of Lucy's, and together they vow to make others aware of this excellent book.
They decide to use the economic concept of supply and demand to get people interested in the book. If it appears that the book is difficult to buy in bookstores or borrow from libraries, it could increase demand. The idea is not to take or steal the books, but rather to put them where they are least likely to be found. Visiting bookstores and libraries they creatively re-shelve Harper Lee's classic so customers looking for copies believe they are not available.
Using Facebook, Twitter, and other online forums, they begin a campaign using reverse psychology, telling people that the book is not worth reading. They also spread around flyers and posters with their original logo and the phrase "I kill the mockingbird." News travels quickly and their plan takes off.
Even though Lucy's father suspects their involvement in this crazy scheme, the three friends keep their lips sealed and work carefully to stay above the law. There are some amazing results and a wide variety of reactions that leave the kids wondering if their decision was the right one.
Author Paul Acampora has created an extremely unique story and tribute to a favorite novel of many readers. Scattered throughout the book he also name drops the titles of many other classic favorites as readers follow the adventures of three very creative book lovers. I KILL THE MOCKINGBIRD is a must read.