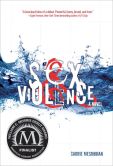 Heads up! The title isn't kidding. SEX & VIOLENCE is not for the faint of heart and should probably be limited to the 16 and up crowd.
When the story begins, Evan Carter is attending yet another school. This time it's what he calls a cut-rate boarding school and education is definitely not a priority. Evan's goal in life is sex, and he is willing to entertain any available girl. He has never faced any consequences for his wild ways until he became involved with Collette.
When Evan starts skipping chapel services to make out with Collette, he ticks off the wrong people. The result is a vicious attack in the dorm shower room. Evan is left with a ruptured spleen, broken nose, broken ribs, torn, mutilated ears as well as an assortment cuts and bruises. He is in a coma and barely remembers what happened when he regains consciousness.
After his discharge from the hospital, Evan's dad moves them to the family cabin on Pearl Lake in Minnesota. Hopefully, this will be the place Evan can recover and get past the violence that almost ended his life. Too afraid to shower and reluctant to trust strangers, he starts therapy and tries to adjust to a slower pace of life. Can he keep the embarrassing secret of his beating and find some friends or will he find himself in even more trouble because of those new friends?
SEX & VIOLENCE is the debut novel of author Carrie Mesrobian. It's powerful message may bother some adults, but teens will no doubt find its raw, edginess attractive.