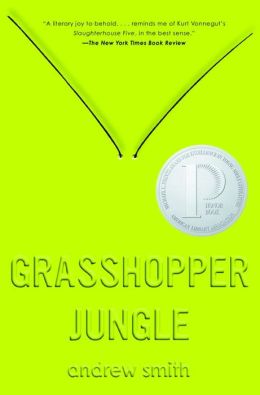 Buckle up and get ready for a wild ride with GRASSHOPPER JUNGLE!
This innovative YA novel starts out with two typical teen best friends, Austin and Robby. These small town teens have one thing on their minds -- sex. Austin can't believe he has been lucky enough to land a girl friend like Shann, but his love for his best friend Robby causes some confusion in terms of his sexuality.
When the two boys stumble across some odd scientific experiments in the locked office of the secondhand shop where Austin works, they are freaked out but fascinated. If that's not creepy enough, they then discover an underground facility dating back to the 1970's that leads them to the creepiest find of all. Austin and Robby end up releasing some mutant, giant bugs that have only two things on their bugged out minds -- food and sex.
Author Andrew Smith combines the real and the fantastic in a way that will amaze and astonish both teen and adult readers. GRASSHOPPER JUNGLE is crass, creepy, and creative and sure to captivate!