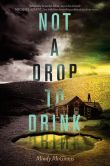 Do not miss this book!!!! Author Mindy McGinnis tells an awesome story that will have you hooked immediately. I was captivated by her characters and drawn into their incredibly challenging lives from the very first page.
Lynn is a teen who has never had ice cream. She has heard of a computer but never seen or used one, but she does know the dangers of cholera and the importance of the pond located next to her home. Lynn and her mother spend most of their waking hours watching that pond and both have killed to protect it.
Set in the not-to-distant future, NOT A DROP TO DRINK will have readers imagining a global water shortage that resulted in a widespread cholera epidemic. Drinking contaminated water causes a quick and painful death. The result has the remaining population doing whatever is necessary to insure their personal survival. People are killing and looting to gather enough supplies to eek out an existence in whatever shelter they can find.
Lynn was a mere toddler when the world changed so she doesn't know any other life. The only human contact she has is her mother and a lone neighbor who has only visited once. Their days are filled with hauling water from their pond to be purified through a crude heating process. When they aren't hauling water, they are tending a garden, hunting for wild game, or chopping enough wood to keep them warm through the harsh winter.
Tragedy strikes when coyotes attack and Lynn accidentally shoots her mother. Now all alone and trying to survive, Lynn is approached by their only neighbor. He has news of others attempting to live by a nearby river. When he and Lynn investigate, they discover a pregnant woman about to deliver her baby with the help of a teenage boy and a young girl. After the stillbirth of the baby, the boy pleads with Lynn to take over the care of the little girl while he deals with the grieving mother. Although Lynn has no idea how to proceed, she finds taking responsibility for the girl helps her deal with the loss of her own mother.
NOT A DROP TO DRINK is a powerful novel of determination and survival. McGinnis describes a brutal lifestyle filled with one tragedy after another. Nothing is sugar-coated as readers experience the horrific lives of these modern-day pioneers. There is a frightening reality that makes this dystopian thriller seem all too possible.