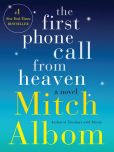 Katherine Yellin is the first person to publicly mention the phone call she received from her sister. Normally, this wouldn't spark any special interest, however, Katherine's sister is dead. According to Katherine, her sister indicated that she was calling from Heaven.
Other members of the Coldwater, Michigan, community began to mention similar experiences. Some spoke with passion, others reluctantly. Several citizens of the small town who received phone calls from deceased loved ones chose to keep the knowledge to themselves. Those who chose to comment publicly began to attract attention, and soon the community was in the news.
Could this really be happening and why was this phenomenon limited to just this little Michigan town? As news of the amazing phone calls spread, Sully Harding recently released from jail and also the recipient of one of the calls, decides to get to the bottom of this seemingly impossible miracle. Events in his life have left him in doubt where God is concerned, and some of the coincidences surrounding these calls makes him believe there is someone responsible. Sully aims to find out the truth.
Once again author Mitch Albom has created a story that touches the spirit and inspires thought. His smooth story-telling style makes THE FIRST PHONE CALL FROM HEAVEN a quick and addicting read.