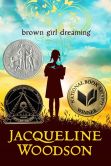 This National Book Award Finalist is definitely worth checking out. Written in verse, it tells the story of the author's own childhood experiences. Growing up in Ohio, South Carolina, and eventually New York City during the years of the Civil Rights movement, Woodson shares what it was like to live in a non-traditional family situation, experience prejudice, and follow her dreams.
"Jackie" Woodson was a second child born to her parents in Columbus, Ohio. Her parents' marriage was never stable, and when they split up, Jackie was still a babe in arms when her mother moved her and her brother to South Carolina to live with grandparents.
Jackie immediately took to her grandfather "Daddy" and remained close to him until he died. Her grandmother, a strict Jehovah's Witness, introduced Jackie to the Bible and taught her the ways of their often misunderstood faith.
When Jackie's mother left South Carolina to search for a better life in New York City, Jackie and her brother stayed behind. The love of their grandparents helped life seem normal even with their mother gone. They still remained close and returned for visits even after their mother returned to retrieve them and take them to the big city.
In BROWN GIRL DREAMING Woodson explains her love of words and writing. Readers will follow Woodson through her childhood experiencing the happy memories, disappointments, and loves and losses that all combined to influence the amazing writer she would later become.