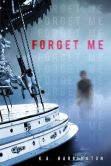 Ebook review copy courtesy of FirstToRead.com
Morgan has only known Flynn for a few months, but she thinks she may be in love. He is dark and quiet, and she hasn't really introduced him to many people since he'd rather just hang out quietly with her. Disaster strikes the night that a black SUV roars out of the darkness killing Flynn and then speeding off into the night.
There is no closure for Morgan. Flynn's body is apparently claimed by his family and taken away for a service and burial, and Morgan isn't invited. Determined to solve the mystery of Flynn's terrible death, Morgan takes the suggestion of a friend and posts her one and only picture of him on a social media site. The mystery only deepens when the picture leads to information about a young man known as Evan. Could they actually be the same person? Morgan aims to find out.
Morgan's search is complicated when her parents begin acting strangely. Both of them lost their jobs when the major industry in River's End closed due to a series of heart attack deaths related to one of the company's products. Now they always seem to be whispering in the next room about some secret only to lapse into an uncomfortable silence when Morgan enters the room. Morgan knows they are hiding something so she is forced to search for answers about Flynn on her own.
Should she arrange a meeting with Flynn's lookalike who lives in the neighboring town? Perhaps returning to the abandoned amusement park where she met Flynn will reveal some answers. All Morgan knows is she will never find peace until she knows who Flynn really was and why the black SUV ended his life so abruptly.
Author K. A. Harrington combines one plot twist after another to create a suspenseful novel that fills in a much needed gap in YA literature. Mysteries are few and far between for teens, and Harrington's FORGET ME is perfect for readers searching for offerings in this genre.