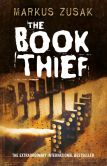 Author Markus Zusak uses intensely beautiful language to tell the story of Liesel Meminger and life in Nazi Germany under the reign of Hilter. Narrated by death, it's the story of a young girl taken in by a Germany couple.
Hans and Rosa Hubermann are prepared to act as foster parents to Liesel and her younger brother. When the boy dies on the train en route to their Himmel Street home, they agree to take in the girl even though it means their foster care allowance will be cut in half. Actually, Rosa Hubermann is more disappointed by the lack of income than her husband Hans who is immediately taken by the young Liesel.
Liesel slowly adjusts to life with her foster parents. Nightmares plague her sleep as she remembers the tragic death of her brother, but Hans is there to comfort her each night. To calm her and pass the time when she awakens in the night, he teaches her to read and unknowingly opens her world to the power of the written word. Once Liesel experiences books she can't get enough of them and will do almost anything to get her hands on more material.
When a young Jewish man arrives in the dark of night, the Hubermann's find themselves fulfilling a promise made years ago. They take in the young man and hide him in their basement even though they are risking their own safety to do so. A strong bond develops between Max and Liesel. She keeps the family's secret well and life continues in what soon becomes a war-torn Germany.
THE BOOK THIEF is a mesmerizing tale that will have readers gasping in fear, chuckling at life's humor, and experiencing the heart break and horror of war. This reader did the unthinkable and watched the movie first, but seeing the fantastic cast enact the story helped make the written word even more glorious. Find the time to read the book and watch the movie. You won't be disappointed.