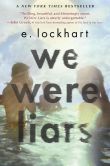 They were wealthy with four summer homes on their own private island. They had everything, but one summer something happened that changed them all.
Cadence, Mirren, Johnny, and Gat had spent every summer together on Beechwood Island for as long as they could remember. The island belonged to the Sinclair family and the four teens were connected to the Sinclairs in some way or another. Grandfather Sinclair was the aging king of the island and his three daughters returned every summer with the grandchildren. Most years were carefree, but an event happened that ended those lazy, innocent summers.
That summer Cadence was injured. It involved the ocean, some rocks, and a head injury that left her with blinding pain sometimes unaffected by even the strongest pain killers. She had very little recollection of the accident and what she could remember was washed away whenever the terrible migraines struck. Sent to Europe the summer after her injury, it was the first summer she hadn't spent on the island. Now she was about to return to the family's summer retreat, and she wasn't sure she was ready.
When she arrived, she was surrounding by noisy younger cousins and greeted by aunts who acted distant and distracted. It all felt different. Her grandfather's history-filled house had been totally remodeled, and something seemed off about her childhood summer companions. Why weren't things the same? There seemed to something everyone was trying to communicate, but she somehow wasn't getting the message.
Author E. Lockhart has crafted an amazing story about one tragic summer and one family's struggle to carry on. Lockhart is able to draw readers into this rich family despite their often standoffish ways, and she tricks her readers into believing they see the entire picture. When the real story clicks into place, readers will wonder how they missed the clues as they breathlessly speed through the final pages in search of answers.