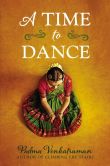 Dancing means everything to Veda. Her mother wants her to focus on her studies and become an engineer some day, but the traditional Indian dance known as Bharatanatyam is all Veda thinks about.
When Veda succeeds in winning a dance competition, she believes her dreams for the future have just begun. Riding home from the competition, tragedy strikes. There is an accident and Veda's lower right leg is injured beyond repair. When she regains consciousness in the hospital, she learns her leg has been amputated below the knee. Now she believes her life is over.
An American doctor takes Veda's case and promises he can create a prosthetic leg that will have her dancing once again. After physical therapy and learning to adjust to her new leg, Veda finds herself back in the beginner's dance class. The only thing that keeps her going is a handsome young dancer named Govinda. He believes in her and is determined to see her dance with more than just skill. Veda is challenged to take her dance to an emotional level she never thought possible.
Author Padma Venkatraman tells Veda's inspiring story and fills it with the mystic and tradition of India. Written in verse, A TIME TO DANCE celebrates the art of dance as well as the resilience and passion of the human spirit.