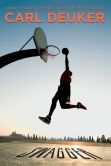 Moving during his senior year is not exactly what Jonas planned, but when his father is injured and then loses his job, any opportunity is a welcome one. Jonas assures his parents that he can play basketball anywhere, and the Monitor College scholarship he is trying to earn will be still be a possibility.
When Jonas arrives in Seattle, he immediately regrets the positive attitude he put on for his parents. He tries to join the pick up games in his neighborhood, but making friends is difficult when you are headed into your final year in a new high school. The only guy who extends a welcoming fist bump is a six-six senior named Levi. Levi helps Jonas get acquainted with the rest of the team and tells him what to expect from the team's aging coach, Coach Knecht.
Practices start, but Jonas quickly senses that Coach Knecht's style is not going to be helpful in snagging the Monitor College scholarship. He will be lucky if he gets to play a few minutes per game let alone score enough points and rebounds to keep the New Hampshire college's coach interested. Besides his playing worries, Jonas has his grades to keep up. Chemistry could put an end to his scholarship hopes, too.
Everything could change with the arrival of Ryan Hartwell, a new assistant coach and teacher. His coaching style is completely different from Coach Knecht. It is exactly the type of coaching Jonas needs to play the kind of game that will have him headed to Monitor College. Unfortunately, Hartwell doesn't see eye to eye with Coach Knecht so not much changes on the basketball court. Off the court, though, Hartwell is making fast friends with the team and offering them a place to party in exchange for their promise to keep it on the down low.
As the season unwinds, events transpire that result in more playing time for Jonas, but something isn't quite right. His friend Levi is showing signs of stress that have Jonas concerned. When he learns the reason for Levi's change in attitude, he finds himself faced with a decision that could change everything including his own future.
Author Carl Deuker is known for his excellent sports novels. SWAGGER does not disappoint. It is filled with non-stop basketball action and enough edge-of-your-seat tension to satisfy any teen reader with an interest in sports and realistic fiction.