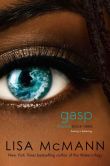 In CRASH Jules saved Sawyer from being killed by a truck headed toward his family's restaurant. Then in BANG she and Sawyer saved the lives of students about to be killed in a school shooting. Now one of the survivors of the school attack is having visions similar to those Jules and Sawyer experienced just before the tragedies they prevented.
They learn about Tori's visions and step in to help, but they are too late to stop the deaths of several people due to carbon monoxide poisoning. When she contacts them again with a new vision, Jules and Sawyer are determined to succeed in stopping another tragic event. This time it appears to involve a Lake Michigan ferry transporting an innocent crowd of people from Wisconsin to Michigan. If they can just figure out the clues, they may be able to save the lives of many.
In the midst of decoding Tori's vision, Jules and her family are the victim of a freak fire that destroys her family's restaurant and home. Although they lose everything and are devastated at the prospect of starting over, the fire seems to have been just the jolt that Jules's father needed to recover from his depression and take charge of his family and business.
GASP is the third and final book in the Visions series by Lisa McMann. Jules and Sawyer's stories will entertain and keep readers on the edge of their seats as well as illustrate that tragedy often uncovers unexpected hope and courage.