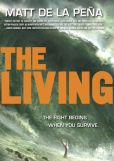 A summer job on a cruise ship seems perfect. Shy knows he will miss his family especially since the recent death of his grandmother, but the money he will be earning will go a long way to take care of everyone back home. Passing out water, handing out recreational supplies, and straightening deck chairs for all the rich passengers keeps Shy busy.
One fateful night Shy is on deck providing beverages for passengers outside one of the onboard dance clubs when a middle aged guy with a pathetic comb-over decides to jump overboard. Just before the man jumps, he mumbles some nonsense to Shy. Shy reacts quickly enough to grab the man's jacket, but as the material tears, the passenger slips from Shy's grasp and plunges into the rough sea.
Shy's second cruise starts out smoother until he realizes someone is watching him. When he and his cabin mate return to find their cabin ransacked, he knows something is definitely going on. At the same time Shy is trying to figure out what the mysterious stranger wants, he gets a message from home. His little nephew has contracted the same fatal disease that killed his grandmother months before. He receives some comfort from a beautiful girl named Carmen who also works on the ship. Her father also died from the highly contagious Romero Disease.
Before Shy can figure out what his stalker wants and how to deal with the problems at home, the ship's captain announces a dangerous storm is headed their way. Shy soon finds himself saving passengers and then leaping into one of the remaining life rafts as he watches the huge cruise ship sink.
Author Matt De La Pena has crafted an amazing adventure that combines a mysterious disease, a tsunami, and an isolated island medical research facility. Readers will be on the edge of their seats for an incredibly rough ride as Shy and his fellow shipmates try to survive. THE HUNTED, a second book in the series, is due for release in the fall of 2014 and promises even more adventure.