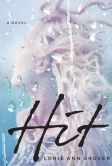 Release date: October 7, 2014
Life can change in an instant. One moment on a rain morning changes everything for Sarah and Haddings.
Sarah, a senior in high school with a full-ride scholarship at her fingertips, heads to catch the bus. A poem is tucked in her pocket expressing her true feelings to a young college student practice teaching in her poetry class. When that poem slips to the ground, she steps off the curb to retrieve it and she is struck by an oncoming car.
Friends and family follow Sarah to the hospital as she fights for her life. The police investigate the accident and question the driver who happens to be the young man Sarah's poem addresses. Haddings tells the police he didn't see Sarah in the rain, but he must come to terms with the fact that he had taken his eyes off the road for a moment and may have ended the life of a truly gifted student.
HIT takes readers into the minds of Sarah and Haddings as they deal with the tragic results of the accident. Sarah's parents and friends sit by her side as she undergoes surgery and grapples with her injuries. Haddings struggles to decide his best course of action after the accident. Should he face Sarah and her parents and apologize or should he stay away and give them time to heal?
Lorie Ann Grover's newest book HIT deals with forgiveness and recovery. When a trusted someone makes a horrible mistake should they be forgiven or forgotten? Grover takes her readers on an emotional journey in which two people must come to terms with a shared tragedy and figure out how best to carry on.