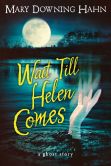 Since their father left, life has changed for Molly and Michael, and things are about to get even more crazy. Their mother and step-father have decided to move the family to the country. Their new home is an old, countryside church that will be turned into an art studio for their parents. Another change is the addition of Heather, a six year old step-sister.
Molly is uncomfortable in her new surroundings. Not only will she be sharing a room with Heather who is unpleasant at best, but Molly also learns there is a creepy, old cemetery behind the church. When Heather finds a hidden grave beneath an ancient tree in the cemetery and begins insisting that she can talk to a ghost named Helen, Molly is convinced that something evil is connected to their new home.
Molly and Michael have tried to accept their new sibling, but Heather doesn't make it easy. When Heather was just three years old, her mother died in a terrible fire. Heather managed to escape the burning house but not the nightmares and panic attacks that have plagued her ever since. Now she spends her time accusing Molly and Michael's mother of stealing her father's love, and every chance she gets, she tattles on Molly and Michael saying they pick on her. Her latest threats involve the ghost of Helen and what she will do to her step-brother and sister when she returns.
Author Mary Downing Hahn is a master of mystery. She takes her readers into the frightening world of the unknown that will have them jumping at shadows and imagined footsteps on creaky floors. WAIT TILL HELEN COMES portrays a world in which the children must convince preoccupied parents that the ghost is real and lives may be in danger. It is perfect for middle grade fans in search of a good ghost story.