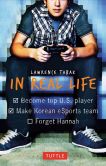 This one is for all the online gamers looking for adventure. Seth Gordon is fifteen and is about to have his dreams come true. He is an exceptional player of a very popular computer game called Starfare. He has competed and performed well in tournaments and is well-known for his creative playing strategies.
Seth spends all his free time playing Starfare. His parents are divorced, and recently his mother moved to California. Since his father travels a lot for his job, Seth's mother would like him to make the move to California to live with her. That is definitely not what Seth wants so he strikes a deal. If he gets a summer job and agrees not to spend so much time gaming, he can stay with his dad.
When he lands a job at a local pizza place, he hits the jackpot because not only does he get the job, but he also gains a girl friend. It is hard for Seth to believe that Hannah really likes him. He is used to being overlooked by girls and considered to be a bit of a nerd because of his outstanding math abilities and his fixation on computer games.
Seth's dream is to become a professional computer game player. After a recent tournament, he is totally surprised when the head of a professional Korean team contacts him. The Koreans are the best in the world, and now they are interested in making him the first American to play on their team. It involves leaving Kansas City and moving to Korea. It is all extremely exciting, but is achieving his life dream worth losing Hannah?
Author Lawrence Tabak captures the fast-paced, competitive world of computer gaming. Readers interested in online games, as well as anyone looking for an edge-of-your-seat adventure with a bit of romance, should give IN REAL LIFE a try.