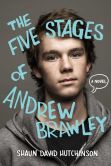 Andrew is living in the hospital where his mother, father, and little sister lost their battle against Death. His feelings of guilt over their deaths has kept him from leaving the last place he shared with them. He works in the cafeteria, lends a hand in the ER, and befriends young patients in the peds ward. He really shouldn't be there, but where else does he have to go?
Always in fear of being discovered by a woman he refers to as Death, Andrew knows his days are numbered. When he isn't helping nurses or visiting two teen cancer patients, Lexi and Trevor, Andrew hides from Death in an abandoned storage closet hoping to remain invisible and escape the emotional pain that threatens to unravel him.
One night Andrew witnesses the arrival of a teen who had been attacked and set on fire by bullies. He feels an immediate connection to the victim and begins to make nighttime visits to the boy's bedside. He spends time reading to Rusty and the two develop a friendship that begins to give Andrew hope that there might be a chance to avoid Death and find a life outside the hospital.
THE FIVE STAGES OF ANDREW BRAWLEY is the tragic, heart-breaking story of a teen whose guilt won't allow him to process his grief. Author Shaun David Hutchinson explores the aftermath of a tragedy and what it takes to recover and cope after a life altering event. Packed with emotion, this story is a unique and captivating read.