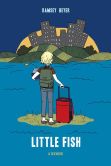 It was exciting to stumble across this book at my public library. When I read the blurb on the jacket flap, I couldn't believe it. In LITTLE FISH author Ramsey Beyer tells her own story -- a small town Michigan girl leaving home after high school graduation to travel to the big city and major in art. What was so incredible, is that this is also my daughter's story. Small town Michigan, then big city art major!
Beyer uses not only her talent as an author, but also her artistic talent in this graphic/collage style memoir. She tells of a loving and encouraging family and her decision to challenge herself by going far from home to attend a school that would allow her to cultivate her talent. Recording her experiences over the course of one year, she shares the excitement, the adventure, the homesickness, and the occasional doubts that filled that first year.
LITTLE FISH is the perfect book for those about to embark on the grand adventure of life after high school and for those who remember similar times in their own lives. So glad I found this treasure.