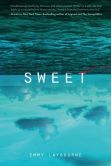 SWEET by Emmy Laybourne is about a luxury cruise like none you could ever imagine. For Laurel and her friend Viv this seven day adventure promises to be life-changing, but neither of them expected it to have the potential of being life-ending.
Laurel is grateful that the parents of her rich friend Viv have offered to pay all the expenses for this incredible vacation. Not everyone has a chance to participate in this unique cruise. In addition to a luxurious stateroom, massive buffets, pools, spa experiences, and interesting side trips, each cruise member will be given the opportunity to partake of a brand new diet drug called Solu. This miracle concoction promises to help those who are overweight shed their unwanted pounds while still eating whatever they desire. Absolutely incredible!
Solu, a sugar substitute, is added to the guests' desserts and offered in lovely lavender packets that can be added to beverages, etc. The weight loss results are almost immediate. Laurel observes those results in her friend Viv, but due to an unfortunate bout of seasickness, Laurel isn't able to participate. Is she missing out or will she end up being one of the lucky ones when it turns out that Solu may not be a miracle as advertised?
Author Emmy Laybourne has successfully combined the attractive backdrop of a luxury cruise with the ever present desire to be thin. Readers are in for a treat complete with colorful characters, spot-on descriptions of cruise ship activities, romance, and eventually, raving lunatics. Laybourne is also the author of the popular MONUMENT 14 trilogy.