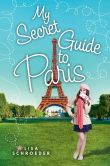 Nora has always dreamed of Paris. Her fashion designer grandmother spent time there every year and returned with fascinating stories about the sights and sounds of the great city. When her grandmother suggested a trip there to celebrate Nora's twelfth birthday, Nora could hardly believe it. The only catch was to get permission from her mother who had barely been on speaking terms with Grandmother for years.
With the devastating news of Grandmother's sudden death, Nora's dream of visiting Paris all but disappeared. However, her hopes were renewed when she and her mother went to Grandmother's apartment to sort through her remaining things. In an old trunk at the foot of the bed, Nora found pure treasure. Inside the trunk was a mysterious, locked box as well as an envelop with three tickets to Paris - one for her, her mother, and Grandmother, of course. It was obvious that Grandmother had completely planned this trip before her untimely death.
Now it was up to Nora to convince her mother that the trip should still take place. Not only would it be the trip of a lifetime, but Nora also discovered a batch of envelops in the trunk indicating that once in Paris, her grandmother had planned some sort of scavenger hunt involving special points of interest and secret gifts. If Nora could only get her mother to understand how important this trip was to the memory of Grandmother, she could also learn more about what caused the rift between the two most important women in her life.
Author Lisa Schroeder takes readers on a heart-felt adventure that draws a mother and daughter closer. Aimed at middle grade readers, MY SECRET GUIDE TO PARIS is a touching novel guaranteed to connect to readers of all ages.