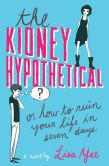 It only takes one hypothetical question to ruin everything. Higgs Boson Bing will be graduating in 7 days. He'll be heading to Harvard to become a third generation dentist. His parents will be proud, and he will be honoring the memory of his older brother. However, when his girlfriend, Roo, asks him if he would give her a kidney if she needed one, his answer, or lack of an answer, could possibly be the beginning of the end of his dreams.
Since Higgs's brother died in a car accident just before starting college at Harvard, he has been trying to turn his own life around and become the son his father and mother lost. He got serious and hit the books when he started high school and the reward paid off. He is valedictorian and has earned early acceptance at Harvard. Messing things up with his beautiful girlfriend has definitely thrown him off his game.
When he runs into Monarch, an unusual girl living in an old Airstream in the woods, he finds her quirky behavior a bit strange yet refreshing. Influenced by her relaxed attitude toward life, Higgs may just have the courage to find himself and face the future on his own terms.
THE KIDNEY HYPOTHETICAL by Lisa Yee takes a humorous, touching look at a high school senior about to embark on his future. Like many graduating seniors, Higgs must decide if he will follow the dreams of his family or his own personal dreams. Here's a hypothetical question for you, if you were faced with two futures, which one would you choose?