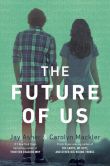 Emma and Josh are about to experience the World Wide Web for the first time. Using one of the new America Online (AOL) CDs that have been arriving in mailboxes around the country, Emma uses her new computer to log onto the Internet for the first time. She and her former best friend Josh are about to have a sneak peek into their futures that might change things between them forever.
Authors Jay Asher and Carolyn Mackler combine their amazing imaginations to create a story that will have readers realizing that living in the here and now is more important than worrying about the future.
The first thing Emma does is sign up for an email address and then she creates a password. Once logged on, she begins to explore. Clicking on the "favorites" tab, Emma finds herself gazing at a blue and white website scattered with small pictures and various comments attached to the photos. One photo looks strangely familiar. Could it actually be her? More specifically, is it a picture of how she will appear in the future?
It soon becomes evident that this strange site called Facebook represents something from fifteen years in the future. Emma immediately calls her neighbor Josh and tells him he has to see this. Upon further examination, the two discover that refreshing the site changes it and allows them to see glimpses into their future lives. At first it is exciting, but it seems that each peek they get of what is to come, messes with what is happening in their current lives.
Will learning their fate in the future be worth losing what they have in the present? Pick up a copy of THE FUTURE OF US and find out.