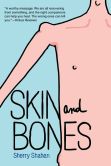 Anorexia, bulimia, and compulsive overeating take center stage in SKIN AND BONES by Sherry Shahan. This book takes readers into the world of eating disorders where Jack "Bones" and David "Lard" are attempting to identify the demons that have taken over the food portion of their lives.
Bones is anorexic. His fear of gaining weight has become a threat to his physical health. An offhand comment from a sales person years ago triggered his eating disorder, and now his family is concerned that things are so out of control that a six week program in the EDU (Eating Disorder Unit) is the only way to help him.
Lard loves food. If he doesn't learn how to control his compulsive eating, he could literally eat himself to death. Oddly enough cooking and acting as an amateur chef, gives Lard a sense of satisfaction and allows him to work with food and not have the desire to eat it.
Both teens are in a treatment center where they are constantly monitored and are involved in therapy sessions and writing exercises designed to teach them how to cope with their issues. It isn't until Bones meets and falls in love with another patient named Alice that he begins to understand the seriousness of his situation. Is it too late for Bones to change? Will he and his new friends be able to modify their behavior and change their attitudes about food?
One of my students recommend this book as one of the best book she had ever read. It is a worthwhile read and will definitely provided a needed message for teens experiencing body image issues and eating disorders. Many of these books focus on the female prospective, but SKIN AND BONES realistically includes both males and females.