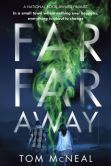 FAR, FAR AWAY begins and ends with "the strange and fateful tale of a boy, a girl, and a ghost." The boy is Jeremy Johnson Johnson. The girl is Jeremy's new found friend, Ginger. The ghost is Jacob Grimm of the famous Grimm's brothers.
Jeremy and his father live in the Two Book Bookstore inherited from Jeremy's grandfather. Considering that the store only carries copies of just two books (the two volumes of Jeremy's grandfather's autobiography) business is not exactly booming. Jeremy's father is also suffering from depression and hasn't left the store, which is also their home, in years. Since they are unable to pay the mortgage on the store, father and son may be out on the streets in a few short weeks.
Both Jeremy and his small town have some unusual quirks. First, Jeremy has grown up hearing a voice that identified itself as Jacob Grimm. Because of a tragic event that hasn't allowed Jacob to rest peacefully, his spirit has remained behind for centuries and his ghost currently speaks through and shares his famous tales with this lonely teen living in the town of Never Better.
Never Better is home to a popular bakery. Whenever the residents observe a mysterious green smoke coming from the bakery chimney, they know the baker is making some of his famous Prince Cakes. The cakes supposedly possess magical qualities no one can explain.
Another mystery in Never Better is the disappearance of several of its young citizens. The police chief believes the disappearances are simply cases of run away kids, but Jeremy and Ginger begin to suspect otherwise. The real adventure begins when Jeremy and Ginger become the next two missing teens.
Author Tom McNeal has cleverly created a modern day tale with the tone and flavor mimicking the fairy tales of old. FAR, FAR AWAY will captivate fans of fantasy as well as those who usually prefer more realistic tales. This reviewer believes there is a little something for everyone.