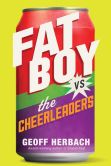 With a nickname like Chunk, you can imagine what life is like for Gabe Johnson. Gabe's weight problem began when his mother left. His father sunk into a deep depression, and Gabe's life began to revolve around watching TV and eating junk food with his dad in an attempt to keep him from giving up. Gabe packed on the pounds, his father continued to mope, and his mother didn't even call or write.
The only thing that keeps Gabe going is playing his trombone in the Minnekota Lake High School band. The band director Mr. Shaver has influenced a lot of kids like Gabe, in other words, the geeks of MLHS. The marching band is a huge success thanks to proceeds from the pop machine located in the school cafeteria. Gabe is one of the pop machine's biggest supporters which doesn't exactly help his weight problem. A minimum of four Code Red Mountain Dews is what gets him through the day.
When Gabe and his fellow band members see the sign on the pop machine announcing that the money raised will now be going to support the cheerleaders' dance team, they can't believe it. Who made that decision? The next announcement angers them even more - no money means no marching band camp!
Gabe suddenly finds himself thrust into the role of leader as he organizes a protest to reinstate funding for the band and come to the aid of the band director who is arrested for drunk driving after learning that his program is may be cut. Can Gabe help the band and at the same time deal with a depressed father, a health conscious/workout freak of a grandfather, and the fact that he just might be in love with the school's only Goth girl?
Author Geoff Herbach, known for his STUPID FAST series, has created another great teen character. FAT BOY VS THE CHEERLEADERS is the perfect read for teens who love to root for the underdog and have a laugh or two at the same time.