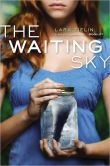 Jane's life revolves around her mother. Her mother is an alcoholic, but definitely not the kind of alcoholic who admits the problem and attends AA in an attempt to lead a normal life in hopes of holding a job and supporting a family. Nope, Jane is the one who must to hold it all together by paying the bills with whatever money she can earn babysitting and whatever she can grab before her mother drinks it away.
This is the only life Jane has known for years. She does have vague memories of a time when her father was still part of the picture and when her older brother was still around, but it's been years since her life included happy memories. She knows things need to change, but it isn't until the day her mother gets behind the wheel drunk and almost kills Jane and her best friend Cat, that Jane realizes it's time to act.
When her brother Ethan invites her to spend the summer with him as he and the Tornado Brothers chase storms in the Midwest, she jumps at the chance. Although she is excited, she also harbors incredible guilt about leaving her mother alone. Ethan assures her their mother is not her problem, and that she needs to break away and live her own life. He even suggests that she could stay with him after the storm season and finish her last year of high school while living with him in Oklahoma.
Jane is assigned the job of official photographer for the Torbros. As she joins them in the van following storms, she learns the ins and outs of storm chasing and just how dangerous it can be. Along the way she meets Max, an intern from another chase team. He is beyond cute and seems to be as interested in her as she is in him. But no matter how involved she becomes in the adventure of storm chasing, she is constantly worried about the problems she has left back in Minnesota. Can her mother survive without her? Are the bills getting paid? Is her mother even hanging onto her job?
THE WAITING SKY by Lara Zielin offers readers a variety of story lines. The excitement of following killer tornadoes, the frustration of dealing with an alcoholic parent, and a budding romance all combine to form a real page turner. Jane is a strong female character determined to handle whatever comes her way. She may not always make the best decisions, but she pushes on and deals with whatever life tosses her way. Head to your library or local bookstore today and get your hands on a copy!