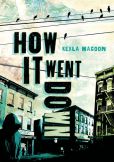 Review ARC courtesy of NetGalley.com
Release date: October 2014
It is a case of violence in the hood. A would-be teen gang member is shot and killed as he leaves a neighborhood store. Did he have a gun or was it a Snickers candy bar clutched in his hand?
Tariq didn't have the best reputation, but that doesn't excuse the tragedy that ended his life. He was running an errand for his mother and was shot leaving the store. When a white man with a gun observed a black teen in a hoodie running from the store with the store owner hot on his heels, the white man opened fire and fatally shot Tariq. What no one stopped to investigate was that the shop owner was simply trying to get Tariq's attention because he had forgotten to pick up his change.
HOW IT WENT DOWN by Kekla Magoon is proof that every witness has a different view of the event and every person has a different opinion about the victim. The story records the nine days following Tariq's death. Multiple points of view are presented taking readers into life on the streets of Tariq's neighborhood. The emotional impact on Tariq's mother, grandmother, sister, and best friend are only a few of the many voices present in the novel. Both friends and enemies as well as random participants in the events surrounding Tariq's death share their thoughts and reactions to the violence that is an unfortunate part of their daily routines.
Similar to recent real life events, HOW IT WENT DOWN definitely speaks to the racism, inner city violence, and how justice is viewed by many today.