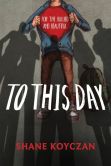 Review ARC courtesy of NetGalley.com
Release date: September 2014
Maybe some of you readers have already witnessed this amazing piece of material. Author and poet Shane Koyczan first performed TO THIS DAY as a spoken word poem on stage. From there it became a hit on You Tube, first as a recording of his performance and later as a video highlighted by the work of visual artists. Now TO THIS DAY can be found in book form complete with Koyczan's poem, art from select graphic artists, and a detailed background of the history of the piece and the message Koyczan hopes to convey to the world about bullying.
TO THIS DAY expresses the conflicting feelings of an individual growing up in a vicious, intolerant world. Whether suffering emotional or physical attacks, the victim of bullying struggles with how to carry on as each day presents what feels like insurmountable challenges. As Koyczan explains, "Sticks and stones may hurt your bones, but words can never hurt you," are words that offer empty comfort to a child facing torment from his peers. The power of the bully is overwhelming for those under attack.
Koyczan hopes his poem will speak to victims, perpetrators, and bystanders alike. The power of his words combined with eye-catching and emotional artwork should ensure that his message touches anyone who turns the pages of this brilliant piece. Those who have suffered at the hands of a bully will no doubt be able to see themselves at some point in the poem, and hopefully, rejoice that Shane Koyczan has been able to present their feelings for the world to see.