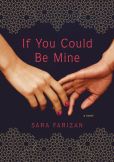 Sahar remembers the day she told her mother she planned to marry Nasrin. She also remembers that her mother told her that wasn't a good idea. Living in Tehran, Iran, means Sahar's love for her best friend is off limits. Two girls loving each other could end in death for both of them.
Now Sahar is seventeen, her mother is dead, and her father is still in mourning and has no idea what life is like for Sahar. She plans to finish school and take the test to earn entrance in university. Her plans also include becoming a surgeon and spending the rest of her life with Nasrin. Even though the law forbids it, they will find a way.
What Sahar never expected was that Nasrin would accept the proposal of marriage from a young man her parents insist is an excellent match. How could Nasrin live a lie? Sahar knows that when the two of them are together there is no denying that their love is meant to be, even if it is forbidden.
When Sahar's cousin Ali introduces her to a transsexual who successfully completed sexual reassignment surgery, she begins to believe there is still hope for her dream to marry Nasrin. Iran approves of sex changes if it means an end to homosexual behavior. The surgery is even fully paid for by the government. All Sahar needs is to be referred to a surgeon and try to speed up the process so she can present herself to Nasrin as a man and stop the wedding, but once she learns the details of the surgery, Sahar has second thoughts.
Author Sara Farizan explores the frighten life of forbidden lesbian love in Iran. Her words bring life to the frustration, fear, and fallen dreams of two young women searching for true love.