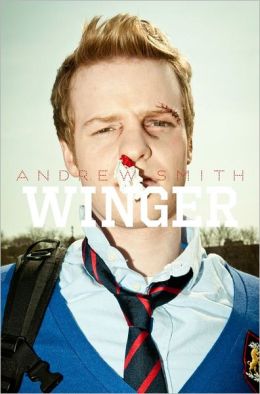 WINGER received a rave review from one of my 9th grade students, and having just finished it, I can definitely see the appeal. Author Andrew Smith creatively portrays the worlds of boarding school rich kids, the violence of rugby, and the efforts of a young teen to fit into both worlds as he stands up to the bullies and attempts to get the girl.
Ryan Dean West, call him Ryan Dean, please, is a junior at Pine Mountain. One thing that makes him stand out from his classmates is that he is two years younger than his sixteen year old cohorts. Although he competently competes with them both in the classroom and as a wing on the rugby team, he must stay on his toes to keep one step ahead of them.
Because of an unfortunate cell phone issue, Ryan Dean is starting the year in O-Hall also known as Opportunity Hall which is the dormitory for troublemakers. To complicate matters even more, his roommate is the biggest troublemaker at Pine Mountain. If Ryan Dean can stay out of trouble for a semester, he will be able to return to his old hall and his friends. Things don't start out well when his roommate invites him to play poker after lights out on their very first night together. The night includes not only poker but also beer, and what follows is some rather embarrassing behavior.
After that first night Ryan Dean vows to keep his nose clean, but circumstances dictate otherwise. His best friend Annie tries to keep him on the straight and narrow, but since Ryan Dean actually has a crush on her, his mind is filled with all the things he wishes he and Annie could do. His lack of focus seems to lead him into one mess after another. Will Ryan Dean get out of O-Hall? Will he get the girl of his dreams? Or more importantly, will Ryan Dean even survive his junior year?