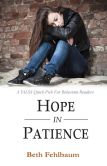 The message in HOPE IN PATIENCE is extremely powerful. I experienced almost overwhelming anger at times while reading this intense book. It frequently reminded me of another disturbing book about abuse, A CHILD CALLED IT by Dave Pelzer.
Ashley is a victim of sexual abuse at the hands of her stepfather. She is now living with her father and stepmother and through therapy, trying to move on and make a new life for herself. The abuse was terrible, but even worse is the fact that her mother stands behind her husband and insists that Ashley has lied about everything. During a trial to determine if Ashley's stepfather should be punished for breaking her arm, the judge determines it was an unfortunate accident, and there will be no consequences for the man that has made Ashley's life a living hell.
As Ashley tries to adjust to life with her biological father and his wife, she begins to make new friends and become involved in school activities. However, no matter how much new friends try to engage her in the innocent fun of being a teenager, Ashley's emotions remain extremely fragile and flashbacks and other reminders constantly threaten to derail any promising recovery.
Author Beth Fehlbaum captures the intense emotions connected to sexual abuse and the cruelty some parents inflict on their children. Readers will experience a roller coaster of emotions as they follow Ashley's rough road to reclaiming her life. Although, HOPE IN PATIENCE is a sequel to COURAGE IN PATIENCE which is out of print, it can be read and appreciated on its own.