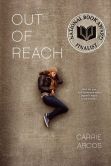 Rachel's older brother Micah used to be her best friend. She has fond memories of their younger years playing games together, going on family vacations, and working as a team to irritate their parents. Unfortunately, she has watched his slow destruction, and now he is missing.
Much to their parents' regret, Micah was never a motivated student like Rachel. He had his head in the music game. He learned guitar and formed a band. They were pretty good, too, booking gigs and making a name for themselves. Maybe it was the music that led him to drugs or maybe the crowd he was running with. What ever the reason, Rachel knew he was getting in deeper and deeper, but she didn't know how to let anyone know how bad it really was.
When his addiction became undeniable, Rachel watched as her parents tried to get him help. There was family counseling that didn't work and then they tried rehab. Micah told everyone that the short stint in rehab had convinced him that he needed to change his ways, but Rachel knew that it was only a matter of time until he would break their parents' hearts again. Using meth had taken over and was the driving force in Micah's life.
Now Rachel is determined to find Micah and bring him home. If she succeeds, she will be the hero and reunite her crumbling family. She calls Tyler, a member of the band, and begs him to take her to Ocean Beach. An anonymous email she received hinted that that is where she would find Micah. Together, Rachel and Tyler comb the beach, the boardwalk shops and restaurants, and the questionable neighbor resort area. They show everyone Micah's picture, but only receive negative responses until one person reveals that Micah has become not only a meth user but also a dealer. Tyler knows this is extremely bad news and tells Rachel it is going to make finding him even more difficult and dangerous.
OUT OF REACH takes readers into the belly of the drug world. Taking place over a twenty-four hour period with Rachel's flashbacks to the past, author Carrie Arcos puts her characters in dangerous and compromising positions and reveals secrets that will take readers deep into the emotions that drive each one.