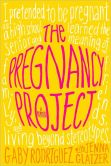 Gaby never dreamed that her senior project would become such a big deal. She wanted to make an impact, and she certainly did!
Raised by a single mother who had seven other children, Gaby's life was not an easy one. Living in a small Washington state community with a large Hispanic population, teen pregnancies and single parents were the norm. As the youngest of her siblings, Gaby recognized a vicious cycle as her older brothers and sisters became young parents whose relationships usually fell apart. Left to raise their children alone and with little financial resources, it seemed obvious that their lives would be just like that of their mother.
When it came time to plan for her senior project, Gaby had an idea. What if she faked being pregnant and researched society's reactions. How would her fellow classmates respond? What about her teachers? And what would be the reaction of her family and that of her boyfriend's family?
What followed was careful planning and then getting permission from a select few. Gaby realized that only certain key players could know the truth or her project would be viewed as a joke and any work she did would be wasted. With the help of her mother, one sister, a close friend, and her boyfriend she embarked on a project that would change her life.
Gaby originally set out to illustrate how difficult teen pregnancy could be not only physically, but also emotionally due to the fact that most people looked down on girls who became pregnant as teens. She hoped to help at least one person stop and think before making the mistake of getting pregnant at an early age.
Not only was Gaby's experiment a success as a senior project, but it also gained recognition across the country and the world. She appeared on major news shows, was offered a book deal, and her story became a motion picture. Her work helped encourage teens to prevent unwanted pregnancies and also helped change the perception many have of teens who are already mothers. THE PREGNANCY PROJECT is the perfect book for teens everywhere.